Crystal Mountain Resort and Spa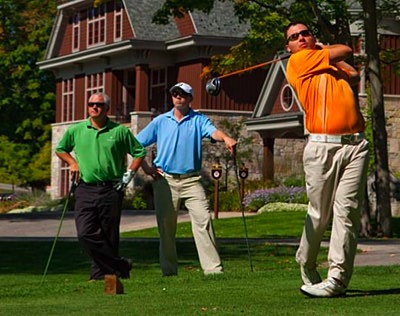 Crystal Mountain, the Midwest's Premier Four-season Family Resort, is a family-owned year-round resort featuring 36 holes of championship golf, 45 downhill slopes, over 260 superb lodging units, dining and award-winning conference facilities. Crystal Mountain is located 28 miles SW of Traverse City, Michigan – an easy drive from Detroit and Chicago.
GOLF
Crystal Mountain Resort & Spa is the perfect destination for your next northern Michigan golf vacation. Crystal Mountain offers an exceptional northern Michigan golf experience. With two distinctly different golf courses – both of which have received a four-star golf course rating from GOLF Magazine – and one of America's top 25 golf schools, you're sure to find everything you expect from this premier northern Michigan golf resort.
Crystal Mountain – Mountain Ridge Course
The Mountain Ridge Course carves through heavily forested highlands with expansive waste bunkers and tree-lined fairways, culminating in a 200′ climb and spectacular views. Despite its challenging layout, four teeboxes on each hole make Mountain Ridge very playable, with distances ranging from 4,956 to 7,007 yards. Crystal Mountain – Mountain Ridge […]
Crystal Mountain – Betsie Valley Course
On Crystal's scenic Betsie Valley course, play amidst sparkling creeks, tranquil ponds and lush meadows. Water comes into play on nine of 18 holes and its isolated fairways are accented with wildflowers and flanked by towering pines and hardwoods, creating memorable, picturesque play. You may take a cart or walk […]
CONFERENCE FACILITIES:
Crystal's 33,000 square feet of International Association of Conference Centers-approved conference facilities can accommodate groups of up to 300. Crystal is a five-time recipient of the Paragon Award from Corporate Meetings and Incentives magazine.
CRYSTAL SPA
Crystal Spa is a celebration of relaxation, renewal and the environment on a grand scale. This 18,500-square-foot oasis in the heart of Crystal Mountain honors the art and natural beauty of northern Michigan in a setting that awakens and inspires.
MICHIGAN LEGACY ART PARK
Crystal is home to the Michigan Legacy Art Park, a unique 30-acre park that features a variety
of artwork nestled along a woodland trail. Its aim is to integrate art and nature in an ecologically sensitive environment. The Art Park is open year-round, and also features a number of live performances in the outdoor amphitheater during the summer.
ACCOMMODATIONS:
240 luxury suites, hotel rooms, condos & resort homes, many with in-room whirlpools, can accommodate over 1,300 guests on-premise.
REAL ESTATE
Crystal's Real Estate office has opportunities for every lifestyle; condominiums, townhouses,
single-family homes and building sites.
SKIING AT CRYSTAL MOUNTAIN
Named the #1 Resort in the Midwest by SKI Magazine, Crystal Mountain Resort & Spa is northern Michigan's premier ski resort destination. Ski and ride on 45 downhill slopes – including two terrain parks and a 700-foot halfpipe. Tour rolling terrain and glide through wooded valleys on 40+ kilometers of groomed cross-country ski trails. Award-winning kids programs and a nationally certified ski and snowboard school can get you started or help you fine-tune your skills.
Crystal Mountain Resort
12500 Crystal Mountain Drive
Thompsonville, MI 49683
1-800-968-4676
Crystal Mountain Links:
Visit Crystal Mountain Resort Website >>>
More News From Crystal Mountain Resort